Hawaii Ocean Front Home
Protected by a gated entrance, this Lanikai oceanfront villa offers a rare combination of breathtaking ocean views and privacy. The best beaches in Oahu and Hawaii, Kailua and Lanikai, are here – just a short 3-minute walk on each side of the villa.
The villa is 3,800 sq ft of luxury living, located on the beautiful windward coast of Oahu, in the upscale community of Lanikai. There are 5 bedrooms, 3 of which are right on the ocean. Each has their own theme: Bali, Victorian, Travelers, Tropical, and the master suite.
The villa is beautifully furnished in a blended mix of art deco and tropical. There are 2 bars and a dining room that faces the ocean. The kitchen is spacious, with a large Sub-Zero refrigerator, 2 oven/microwave combos, a dishwasher and all the kitchenware you might need. There are two sitting areas: the ocean-facing living room with marble gas fireplace, and the family room with large TV with DVD player. A workout room has everything for those who wish to use up some extra energy. The gym's bathroom has direct access to the backyard for showering off sandy feet before returning to the house.
You can relax in the backyard on chaise lounges and enjoy the sight of the sun or moon rising from the ocean right in front of you. After your evening stroll along the beach, use the barbeque and dine al fresco.
A semi-circular driveway can accommodate 3 cars, and the double gated entrance allows cars to come in and out easily.
This is a vacation you will not forget. Your Lanikai, Oahu Villa is waiting for you.
Grundriss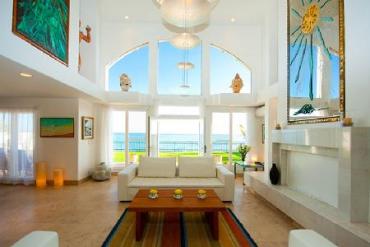 There are 5 golf courses within a 15 minute drive. Great shopping and dining areas (with many fine restaurants offering a complete spectrum of local and international cuisine) are 5 - 20 minutes away. Honolulu International Airport and all of the major visitor attractions as well as Honolulu, luxury shopping, nightlife and Waikiki and are within 30 minutes of the villa.
Lanikai is a charming community with an "away from it all" feeling on the beautiful and cooler East side of the island. Its uncrowded white sand beach is bordered by luxury homes.
Guests' private gatherings – not parties – are allowed upon request. There is a maximum of 16 guests – including overnight guests – permitted for these gatherings. Additional costs may apply Kailua , Kailua , Hawaii , USA
THIS IS A QUITE TOWN WITH LOTS OF RELAXATION AND PLEASURES AROUND,SHOPPING PLACES,SPA AND MANY MORE